🎉 Celebrating 5 Years of Innovation and Growth! 🎉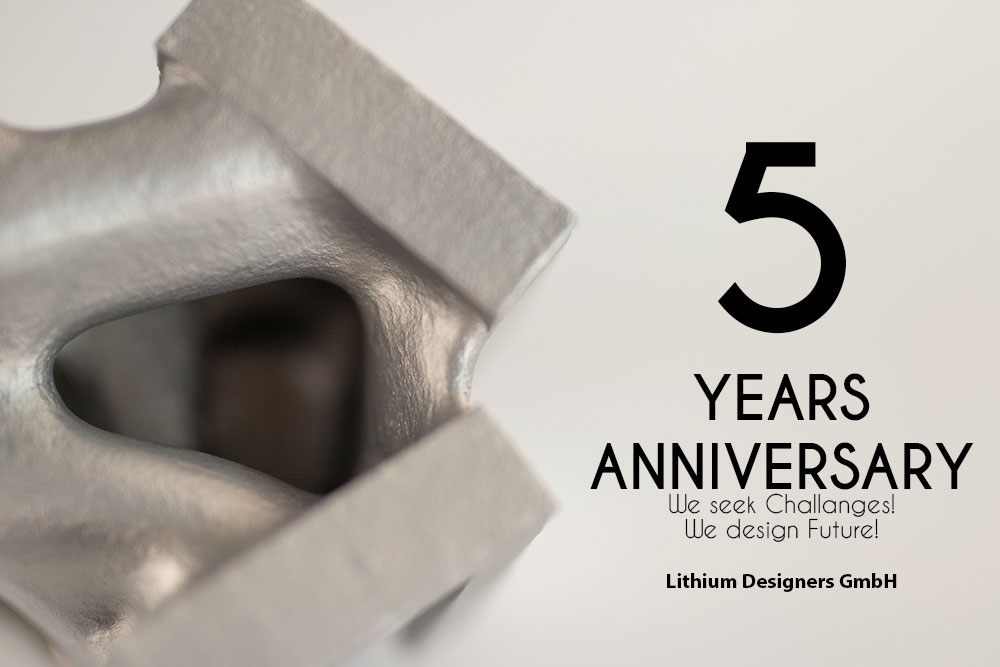 Today, we are thrilled to celebrate the 5th anniversary of Lithium Designers GmbH. It's been an incredible journey from the moment our co-founders Dr.-Ing. Alamir Mohsen and Ahmed Usama had the idea in 2016 to our official launch in June 2018.
We are grateful for the support of our cooperation partners, whose belief in our vision has been invaluable. Together, we have overcome challenges and achieved remarkable milestones. From being named Culture- and Creative Pilots Germany 2019 to being selected for the Futury – The Mission Construction accelerator program in 2023, we've been honored with over 16 prestigious awards that recognize our commitment to creativity and innovation.
We extend our gratitude to our fantastic team, loyal customers, and the wider Lithium Designers community. Your trust and support have been instrumental in our growth and success. As we celebrate this milestone, we remain dedicated to delivering innovative solutions and shaping a brighter future.
Thank you for being part of our journey!
We are powered by:
Kultur- Kreativpiloten Deutschland, Cairo Design Award, Solidworks, ANSYS, 3D Pioneers Challenge, Hessischergründerpreis, Frankfurter Gründerpreis, Wirtschaftsforderung Frankfurt, Frankfurt Forward, EOS, AM Global, Step USA, The Mission, Futury, Iconic awards, Kaufland, Schwarzgruppe, Glaston Corporation, Velux, Garbe, GPD, Baumesse, Ferox Legal, Meissner Bolte, TU Darmstadt, Highest, FrankfurterRundschau, Verband 3DDruck, Techinker Krankenkasse, Springer Nature Group, Vonovia, Bain and Company and so many more…